Carson Ford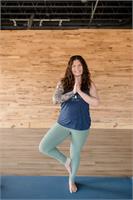 Carson serves many roles at Balance, including Studio Director and instructor. She began her teaching career as a teenager, coaching swimming and dance throughout high school and college. Carson developed a love for the body and how it works while earning a Bachelor's of Science in Exercise Physiology from Midwestern State University. Carson began practicing yoga in 2015 and was instantly drawn to the mind-body connection reached through the practice. She felt that the body awareness she developed through dance and the mechanical understanding of the body she gained through her degree came together perfectly to give her a special connection to the practice.
Carson completed her 200RYT training with Toni Farris at Yoga Tree in Plano, Texas and is registered with the Yoga Alliance. Carson specializes in beginner and modified yoga and has a passion for teaching a safe and mindful practice. She developed the Foundations Yoga program for Balance and enjoys working with first-time yogis of all ages. In addition to Foundations, Carson enjoys teaching Flow Yoga and Restorative Yoga, as well as Barre and Core Pilates. She is currently working toward her 500RYT and plans on becoming a teacher trainer.
Carson Ford instructs the following:
Foundations Yoga is a modified, beginner version of our Flow Yoga class. In Foundations, all poses are modified and performed at a slower pace to give students time to learn poses and transitions in a way that compliments their personal level. Students will learn how to: build poses in a way that honors the anatomy of their bodies, use modifications to get the maximum benefit from each pose, and become adept at using props to aid the yoga practice. Foundations Yoga is suited for beginner yogis, those recovering from an injury or experiencing mobility issues, and even expecting mothers.




An athletic, fast-paced style of yoga that focuses on building strength and achieving a cardio push for the body. Power yoga includes emphasis on linking movement to breath as in a traditional Vinyasa practice. This practice complements other athletic activities and fitness routines well. Power Yoga is suited for athletic types wanting that extra push.




A traditional Vinyasa yoga class with contemporary dynamic flow. This fluid practice links breath with movement, and balances strength with flexibility. Each teacher has their own unique style, so each Flow class delivers a different experience. All Flow Yoga classes are appropriate for some beginner students up to advanced practitioners.




A gentle yoga practice that is designed to restore the nervous system and help release deeply held tensions from the body and mind. Props are used to support all joints of the body while holding each pose for several minutes to allow the mind to relax and the body to release. This class is appropriate for students of all levels.